Locate and map website design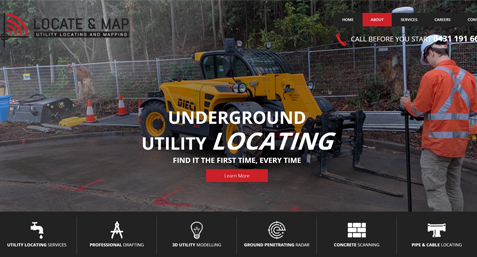 Locate and map are specialists in utility location, surveying and drafting services in the Sydney area. The project needed to encapsulate the various services and professional hands on approach that Tim and his team work so effortlessly to demonstrate.
Given the potential for mobile based clients it was essential that this website was designed responsively to appeal to both domestic and commercial contractors in the field.
The website scales to fit all display types and is built on our custom responsive platform that makes viewing the website from your Iphone, Ipad, laptop or full desktop display a customised experience.
With simple features such as click to call, email and facebook integration it has made it easier for clients to call Tim and his team before they start digging or executing a major project.
Website optimisation techniques such as the ones used in this project will ensure that the techniques used are optimal for today's google algorithms and will give the Locate and Map website the best opportunity to reach their targeted audience.
For more details on this visit www.locateandmap.com.au