Responsive Website Development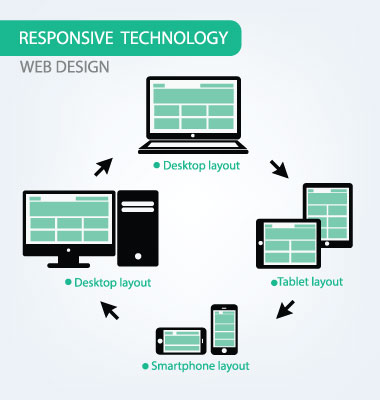 The Change is Already Here – Every year, the amount of time people spend on their tablets and mobile devices increases, while the amount of time they spend on their desktops and laptops decreases. In fact, this year mobile usage is expected account for more than 50% of all website browsing.
Responsive Mobile Web Design
With mobile telephones always on, it is becoming increasingly popular to tailor websites that will provide the user with an exceptional experience. A responsive website design will allow you to create your content only once and deliver it in many different ways across many mobile devices.
Our seamless designs can incorporate layouts to fit all major devices such as the iPhone, iPad, tablet PC's and of course the increasingly popular Android phones.
Mobile Website Application
We can design and tailor a unique and customised mobile website application for your industry. Deliver to the point information and an interface that will allow customers to click to call, locate you on a map, get directions, browse your products or simply contact you across the web. Mobile website applications are an affordable way to engage your users using smart phones.
Webfrog will work with you during the website development to understand your digital marketing strategy and deliver the ideal mobile website solution for your business
Call Webfrog on 1300 371 722 or simply complete our online contact form and we will get back to you regarding your enquiry
Check your website
We've made it easy for you to test is your website is responsive. Simply enter your website name below without the http:// or the www and we will show you what it looks like in responsive modes for example webfrog.com.au