Changing the incoming port on the iphone
The first step to resolving the issue is to make sure your phone is using the correct settings.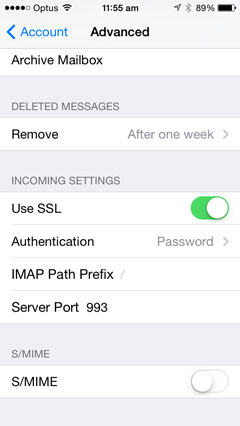 As all our servers us (Secure Socket Layer) you will need to make sure your incoming mail is setup to use port 993.
If your one of those lucky ones who's phone did it's own thing just follow this additional step to fix it.
Step 1 - Click on settings
Step 2 - Click on mail contacts, calendars
Step 3 - Click on your email account (It should be in the list if it has been added)
Step 4 - Scroll to the bottom and select advanced
Step 5 - Ensure that Use SSL has the green button next to it and that server port has 993 (If it dosent just click on them to change)
You should now be operational. If you are still having difficulties, delete the account and try adding one more time.
If this does not work then we invite our clients to contact our support team 1300 371 722 to make a time to come in and see us, we are happy to help.